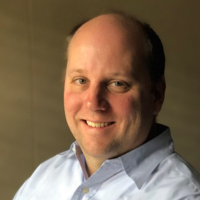 Andrew H. Wells
Chairman, President & CEO
918-456-6108
Andrew Wells is the Chairman, President & CEO of First State Bank. He is a fourth generation banker. Andrew is driven by an entrepreneurial spirit instilled in him from a young age by his family who has been in business in Cherokee County for over 90 years.
Andrew is from Tahlequah and graduated as the 1994 Valedictorian of Tahlequah High School. While he was still in high school, Andrew began working at the bank for his grandfather, Max Squyres, both as a teller and as a bookkeeper.
A self-professed math nerd, Andrew graduated from Oklahoma State University in 1999 with a Bachelor of Science in Industrial Engineering, but upon graduation decided to go into the family business of banking upon request by his mother, Clair Squyres Wells. Upon his entry into banking, Andrew discovered that finance was his true career passion, and has said that going into the banking business was one of the best decisions he ever made.
In addition to being a director of First State Bank for 17 years, Andrew is also Chairman & CEO of Liberty Finance Inc. and President of Maxlou Bancshares Inc. While working full-time, Andrew concurrently earned a Master of Finance degree from Northeastern University and a Graduate Banking Degree with Honors from the Graduate School of Banking at Colorado, where he has also served as an Academic Advisor.
Andrew has been married to his wonderful wife Ashley for 12 years and they have one amazing daughter. In addition to spending time with his family, Andrew enjoys working on his family farm at the Illinois River, reading, writing, playing guitar, and playing tennis. Civic duties include the Tahlequah High School Athletics Premier Sponsorship and the Cherokee County 4-H Hall of Fame Sponsorship.